What is a dream? The word gets tossed around in our day to day lives eluding to hopes and desires.  By its very definition, a dream is unreal, intangible, and breeches the realm of possibility.  It is a world of our creation, and yet on December 9, 2011, 620 participants of DeVry Inc. took a dream and turned it into a reality.
Lead by James Carter, Founder of Be Legendary, this group of extraordinary individuals uncovered the very essence of their legendary lives.  What we do and how we do it are motivated by the underlining belief of why.
Everything we do can be traced back to this basic question. And so on this not so ordinary Friday morning, each individual was challenged to think of and talk about the question of why.
With a seemingly ambiguous three word question, participants asked one another, "Who are you?" The answers were profound as people not only discovered the values of others, but also values of themselves.
"Imagine a golf green surrounded by water," said James Carter.  "What are our initial thoughts?"
Voices from the crowded shouted, "Don't hit the ball in the water!"
"Exactly!", smiled James. "But what is it we really want?"
That question weaved through the conversation of the entire morning.  What is it you really want? Focusing in on the answer to that question is the most powerful tool any company, team, or individual can hold.
And so these 620 individuals focused on their next challenge -  build a product.  They broke off into teams, twisted screwdrivers, rotated wrenches, and began to see parts and pieces come together to create something magnificent, a bicycle.
Building 108 bicycles is quite impressive, but who was going to ride these newly assembled creations?  Participants turned to the back of the room where 108 children from Tangelo Park Elementary cheered and chanted as they piled through the doors of ballroom.
Theses children were in the accelerated reading program and had earned, what would be for some of them, their first bicycle!
And what was probably the most heartfelt part of the day was the stories that came from it.  A participant from DeVry shared how she didn't have any children, how the smile on that child's face lit up her world, and how when the children were getting ready to leave she got the biggest hug of appreciation.
A tear rolled down her face, as she shared her story, a story that will stay with her forever.
We at Be Legendary, never tire from seeing smiling faces, cheering crowds, and the transformation of a dream come true.
We were particularly excited about this event as we welcomed Kytka Hilmar-Jezek and her three remarkable children Zack, Zanna, and Zynnia to our legendary staff!
Focusing in on recreating a legendary world, the participants of  DeVry Inc. are living proof, that believing in dreams can create a working, living, and legendary reality.
December 15, 2011 at 9:03 am | Meetings & Conferences, Philanthropy & Team Building | No comment
Last week on a rainy Tuesday morning, 35 Novo Nordisk employees were gathering for a 2-hour team building event.  Ah, team building.  It can be like nails on a chalkboard.  Some people look at it as a break from their daily routine, while others look at it as a complete waste of time.  Together you get a group of people showing up with a filter of predispositions and a word that has ignited them all!
Little did they know, what they were actually going to be doing that day was much more experiential.  From the very beginning of this 2 hour escapade there was an immediate nose dive from the expected as participants were challenged to become aware of the small opportunities that surround them on a daily basis.
This limbo had only started as they played a little game we like to call "Who are you?" Participants were challenged to communicate in terms that bypass surface levels of communication and unveil the very core beliefs of who we are.  Not only was this a great discovery of the people that surround them on a day to day basis, but this was also a rediscovery of one's self.
And just when you thought it could not get anymore profound, these 35 individuals were going to receive their greatest challenge yet.  Build sandals.
300 million people in this world do not own shoes.  We believe that number should be zero.  Putting the possibility of change in the hands of these Novo Nordisk employees, they, as teams, built sandals from recycled conveyer belts and nylon lace.
The sandals are designed to be extremely durable, so building them is no easy task.  The frustration set in, but it did not discourage anyone from completing their task. Why? Because the challenge that sat right in front of them was going to be on a child's feet in a few weeks.  They were literally transforming the lives of others by transforming this challenge into a positive outcome.
By the end of the event 70 sandals had been assembled.  More importantly, the impact these participants created that day also created a touchstone to the awareness of the opportunities that surround us everyday.
What first may seem as a frustration, a challenge, or a problem, could very well be transformed into a means of radical impact.
What opportunities are surrounding you right now?
November 11, 2011 at 11:00 am | Philanthropy & Team Building | No comment
Mission: Build 20 Jamis Bicycles
Team: Bain Capital
Location: Lenox, Massachusetts
Outcome: Change the lives of 20 extraordinary children
Changing Mission Impossible to Mission Unstoppable, we have launched yet another successful bike build in beautiful Lenox, Massachusetts.  Teaming up with an extraordinary team of individuals at Edgework Consulting, we set up tables where 20 large, rectangular cardboard boxes covered by table clothes sat.
Bain Capital was launching their first day of a company retreat.  What the participants did not know was that unlike the mesh of memories from previous retreats and conferences, they would soon form some very distinct and meaningful memories from this otherwise ordinary Monday morning.
Participants piled in under a large tent looking out at the sun perched just above the tree line in the distance.
"Today we're going to work in our teams to build a very special product", smiled Lou Edgework Consulting CEO.
Savvy in the financial industry, Bain employees exchanged slightly puzzled looks as they walked toward these white, linen table clothes with a large rectangular shape protruding from each.
Twisting screwdrivers and twirling wrenches, teams took a bunch of pieces and parts and created a bicycle.
What they did not know is that while they were attaching pedals and straightening handle bars, a bunch of very special guests were honing in on that very tent.
Twenty kids who are part of the Massachusetts Society for the Prevention of Cruelty to Children, showed up that day to receive 20 brand new Jamis bicycles.
As the Bain participants talked about the creation of their bicycles, their attention was directed to the rear, where children emerged from the tent flaps.
Participants cheered and clapped, kids laughed and shouted, and a bunch of parts and frames were transformed into a medium to change lives.
At the end of the day children ran through a human tunnel of hurrays and hurrahs as they not only left with a brand new bicycle, but with the idea that dreams can come true.
September 29, 2011 at 10:39 am | Meetings & Conferences, Philanthropy & Team Building | No comment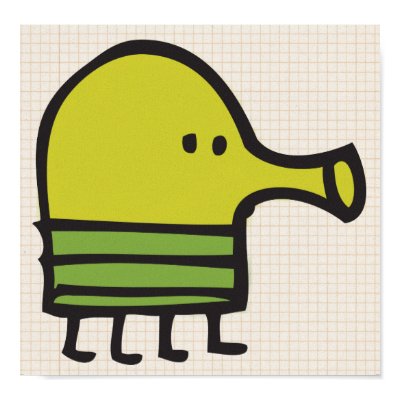 So I was going through my touch flipping through applications the other day, when I came across it.  Doodle Jump.  For those of you who don't know what Doodle Jump is, it's an insanely addictive game where you move a little Doodler as he jumps from platform to platform, evading obstacles and monsters, to try and climb to a new highest score.
The game always ends with you reaching the inevitable frustration of watching your little Doodler plunge to his doom as you let out a, "Noooooo"…and then play again.
The thing is, I haven't played this game in months.  At one time something that was so addictive and exciting has lost its allure.
I sat there wondering why my mind wasn't interested in jumping through Doodle Land anymore.  I knew the appeal was gone as I sat there playing a game, just waiting for it to be over. (Well, actually I have to admit I still break this out from time to time.) But it was no where near as exciting as it once was.
And it dawned on me that the game just got to be monotonous.  What were once exciting challenges turned into redundant expectations.  The flow of the game had been lost because there were no new difficulties.
What I learned from Doodle Jump is that life without challenge becomes boring.  Entertaining new challenges and ideas would mean your considering doing something you did not think possible. Otherwise we get caught up in the rut of reaffirming what we already know we can do instead of trying out new ways of being.
Think about it.  We may enjoy when things become easy.  But overtime that enjoyment will transform into boredom.  A skier will get bored riding down the same green circle slope. They have acquired new skills and what once tested their abilities and gave them excitement now only gives a fraction of the happiness it used to.
A tennis player, will not enjoy hitting with someone who is well below their skill level as they would with someone who slightly surpasses it.  An avid reader will not get the same enjoyment from those 3rd grade picture books (Well, there are always exceptions!) But you get the picture.  (Pardon the pun)
New challenges are not something that should be avoided, but embraced as an opportunity for learning and improving skills. In Mihaly Csikszentmihalyi's (Try pronouncing that one) Flow, he found that when challenges and skills were both high, people felt more cheerful, active, creative, and satisfied.
I have reached many points in my life where I have felt dissatisfied in something that once was a great source of joy.   Exercise seems to be the most redundant one.  I would try to just push through the resistance, but it was only making matters worse.  It was like forcing myself to play Doodle Jump for an hour each day.
It wasn't until I started thinking about exercise in new ways, breaking free of my routines, and doing different genre's of activities that I really got back into the enjoyment of an active lifestyle.  Swimming, hiking, sprinting, rock climbing, dancing, have all been new challenges and new levels of excitement.
I started hitting a wall with my blogging as well.  I was really starting to dread it.  I tried to be so methodical and precise in my posts that they lost their enjoyment. Now I try and take personal stories and examples and just talk them out.  Much more exciting because I don't search for the ideas, I just live out my life, sit on my porch play some Doodle Jump, and then write a post on that!
I challenge you to challenge yourself.  It might just break the barrier of boredom you've been chronically hitting against.
August 8, 2011 at 3:42 pm | Legendary | No comment
We must constantly reevaluate what we do and not let habits and past wisdom blind us to new possibilities.
Apple just launched their newest operating system, OS X Lion, last week.  Like any new idea, people are excited about the change, but weary of its unfamiliarity.  Just like people who are fretful about the idea of switching from PC to Mac, the unknown holds an unsettling feeling for the potential of both positive and negative consequences.
But to ignore a source of innovation because of the possibility of misuse would be senseless.  In Mihaly Csikszentmihaly book on the psychology of optimal experiences, Flow, he writes, "If mankind had tried to ban fire because it could be used to burn things down, we would not have grown to be very different from the great apes."
Embracing the unknown has been civilizations igniting force continually pushing it forward.  On a smaller scale, the very same ideology can be broken down on an individual level.  What is common and routine now, was at one time unfamiliar and unknown.
Using what was once a part of our tactics to crawl, lead us to stand on our two miniature legs for the very first time.  Entering a building full of classrooms, friends, and considerably taller, unfamiliar adults was our first experience of structured learning.
Growing up was full of firsts.  And although the idea of walking could lead to the very realistic possibility of falling, it wouldn't stop of us from taking hold of our latest ability to explore new surroundings.
Entertaining new possibilities is a visceral drive.  We look back and view a child learning to walk or going to school as a natural part of growth.  It is because growth is an innate drive.  Breaking through to new areas of our life is a state of being and it does not end with childhood abilities.
We constantly drive to push ourselves forward.  But we also establish a frame of reference and a list of habits to go with it, and so breaking into new areas becomes risky.
Fresh life ideas contain learning curves, time, consequences, and chances of failure.  But does that mean we should ignore them?  And even if we do, growth is our state of being.  To ignore possibilities would create a dissonance as our beliefs and our actions would not align.
To act would evoke fear, while not acting would create dissatisfaction.  I find we are better fear facers then dissatisfaction creators.
If life is a an array of dots, the ones behind us connected, the ones in front of us an unpredictable sequence – then we must learn to trust that the dots will connect.  Our first day of school might have been our scariest challenge at one time, but now we see it as a connection to what has brought us to where we currently are.
The same can be said about the future. Although those dots may seem like leaps and bounds away right now, they will connect and make the intricate and extraordinary sequence of the life you have the potential of living.
July 26, 2011 at 9:03 am | Better Business | No comment
How do you know which actions are worthwhile and which are not?  Anyone who has an appetite for the taste of success thrives to take meaningful steps towards it, but what do those steps look like?
The most pivotal and overlooked component for success is its starting point.  Teddy Gross, founder of Penny Harvest, has helped raise over $7 million by collecting the tiniest denomination of currency in the US fiscal system.
But where did Teddy begin?  It started with one single penny.  Something so common and tiny most of us don't even bother to pick one up as we pass it in the street.  And yet the collection of pennies has culminated into something truly extraordinary as millions of dollars have been raised for people in need.
None of this would have not been possible without that starting point, without that initial penny. And so one component to what makes actions so valuable is to not underestimate the value of our actions. What at first may seem as trivial and inessential could very well be the building blocks to an extraordinary breakthrough.
When we look at our actions, the only part of it that is truly factual is the action itself.  You take a job, you sell your house, you travel to a different country, you make a sales pitch.  Those are all facts. What comes after the action is our interpretations and perspectives.
The reasons you take a job could run the gamut.  Money, benefits, boredom, satisfaction, travel, fulfillment.  As well as whether or not you actually like this new occupation.  Variables such as co-workers, location, workload, tasks, interaction, and administration all have their respective roles to play.
The reality we create on how good or bad our job is – is formed by the perception we create. And so all our interpretations of our actions feed into whether or not something is worthwhile.
But after actions occur what do you think we tend to focus on?  Look at the front page of todays newspaper, turn on the news, or simply listen in on a conversation at work.  The general scope of perspective is pointed in a negative view.
Out of the 30 most common emotion words in the English language only 6 of them were positive.  This focus on the adverse has put on blinders to countless positive possibilities.
When trying to identify choices and actions that have the most value, focus in on the bright spots of those actions.  In the beginning stages of Penny Harvest when a few hundred dollars of pennies had been raised, Teddy Gross could have thought, "this is barely anything, this certainly won't make a difference."
But instead, he looked at the same few hundred dollars and saw peoples desire to help and built off these bright spots.
Identifying the worthwhile actions isn't about a full proof plan designed to give you the right choices. It is about finding value in the reality we create.
Shakespeare said, "There is no good or bad, but thinking makes it so." Realize that behind every decision we make and every action we take there are positive potentials and bright spots to be found. These actions may not seem valuable alone, but together, can create an outcome that is truly worthwhile.
July 15, 2011 at 5:46 am | Awareness, Better Business | No comment
"If it isn't fun, why do it?" says Jerry Greenfield of Ben & Jerry's Ice Cream.
Its ironic that what many of us dread, another day of work, is supposed to be an environment for productivity, creativity, and innovation.
Work and play are considered opposite ends of the spectrum.  But can the two co-exist?  Can we have some fun and dare I say even enjoy going into work? And if we can, what does that mean for results and outcomes?
David Ogilvy, head of an advertising agency says, "Make it fun to work at your agency.  When people aren't having fun they seldom produce good advertising."
"Necessity may be the mother of invention, but play is certainly the father," said Roger von Oech.
Yet when the idea of play is brought up, it's like violating the sacred sanctuary of the office.  It will only distract and detract.  What other offices incorporate play into their work culture?  Aren't casual Friday's sufficient?
A company seeks for its employees to generate new ideas. This is accomplished by the unexpected joining of two old elements creating something new.  Bringing fun to the workplace could not only produce innovation, but the joining of these two elements is innovation.
There is no harm in planting some seeds to make your workplace more enjoyable.  In fact, there is significant benefit.  Creativity, camaraderie, increase in results, and a breeding ground for ingenuity, just to name a few.  Not to mention your own personal well-being gets a boost.
Be creative. Find ways to make work fun. Because if it isn't fun, why do it?
Here are some ideas to get the wheels turning.
Darts. Put a dart board up in the conference room for people to play when they need a break.
Get outdoors. On a nice day get outside.  Suggest holding one of your meetings outdoors.  Who knows what ideas could arise from mother nature.
Decorate. Decorate your office with stuff you enjoy. Bring in kids pictures or artwork to hang in the office lobby or break room.
Talent Show. No one can resist showing off what they are good at.
Dress Up Day. Every now and then you can't deny, you enjoy dressing up.
Personal Project. Structure into the work curriculum a project to work on with no guidelines – completely up to whatever each person is interested in. (Google has gotten most of its ideas this way)
Group TV Shows. Once a week, or even once a month, watch a favorite TV show. The Office perhaps…
Baby Pictures. Put up a board of baby pictures and guess who is who.
Dance. Turn up the tunes and show off some moves.  While your doing it check out the lyrics for the songs you always lip sing to (ie. Macaroni)
Making the work place more enjoyable will ultimately turn it into an environment generating some legendary ideas.
July 13, 2011 at 1:17 pm | Better Business, Innovation | No comment
How far do our actions really reach?  Is there a way to measure the cusp of our impact? Or do they ignite an endless ripple effect building off the tiniest droplet of change?
Knowing the effects of our actions is quite impossible, but understanding the worth in taking them could not be more clear.  That variable of greatness will always be present, even when it comes to the tiniest or seemingly insignificant gestures or tasks.
Unmasking our legendary potentials breaks through to the most extraordinary outcomes.  In working with a Fortune 500 company, we were able to bring bicycles to 45 underprivileged children in Lisbon, Portugal this past month.
Each team worked together to build these bicycles for very special children, who until now, never had the opportunity to own one.
A bicycle is more than just a metal frame on wheels.  It is a means of freedom, transportation, recreation, and enjoyment.  To a child who has never owned a bike, this day is more than just some charitable contribution.  It is an opportunity for more.  A medium for stretching the limits, and a pathway toward endless growth.
What made all of this possible, were the actions of each team member.  With the twist of each wrench, these extraordinary individuals were building a dream for a young child.
CEO James Carter reminds us that our actions, no matter how tiny, are the building blocks of a legendary life.  If we remove the limitations of not thinking we can make a difference, then what we are left with are endless opportunities and possibilities of how we can.
It seems that in our lives we are stuck at a crossroad.  What if I don't make a big difference? Well, what if I do? What if I make a small difference?
We can never really be aware of the ripple effect of our actions.
July 11, 2011 at 7:45 am | Meetings & Conferences, Philanthropy & Team Building | No comment
Karl Duncker, a Gestalt psychologist, set up an experiment testing the ingenuity of the human mind.  On a table he placed a box of tacks, a book of matches, and a candle. The objective, attach the candle to the wall.  Participants eyed down the materials.  Some tried to use the tacks to fasten the candle to the wall. Not bad, but not successful. Others stepped up their game, trying to melt the candle to the wall by burning the wax.  Still no call for celebration.
Not until they stretched their minds and overcame their fixed mindsets were participants able to crack this riddle.  If you no longer see the box of tacks as solely a holder for those tacks, but also a means to attach the candle to the wall, then you are utilizing something we call creativity, a means of using ones imagination to create original ideas.
In conducting this experiment, Duncker discovered a phenomena known as functional fixedness, using objects only for their preexisting functions.  Participants had trouble overcoming their preconceived thought of the boxes' purpose.  What is interesting was that with a slight manipulation of the experiment Duncker found vastly different results.  When the tacks were placed outside the box participants were two times more likely to figure out the problem.  They no longer saw the box for the sole purpose of holding the tacks.  Instead the box carries with it many possible uses, in this case the use of fastening a candle to a wall.
Now I'm not bashing our abilities to think creatively, merely pointing out the notion that at times something that could be very obvious can lay hidden right in plain sight.  In this case it was the candle box.  Staring participants in the face the entire time, the box did not change or come with some instruction manual the second time around.  No, it was the context of the box that let us think about it in different ways.
We see things for their uses and we see potential in those uses.  But what are we not seeing?  Clearly, as this experiment demonstrates, there are many functions for even the simplest things, like a box of tacks, that we don't realize.  That, in turn, means that there are hidden potentials that we are unaware of.  Things we never realized were there, could be right in front of us the entire time.
Seeing things in unique and unprecedented ways is your power, your perception. Okay, this is going to sound cliche, but creativity comes from within.  It is your ability, your cognition, and your choice.  It is so commonly referred when describing artists because it, like art, simply exists.  It is not told what it should be or how it should look.  Like the strokes of a paintbrush, its movements reflect the imagination of its artist.  So when you add incentive to creativity it tends to diminish because it is no longer just existing. It is now linked to the fate of supplemental benefits.
The candle box experiment was tweaked once again, this time manipulating a time sensitive incentive one received upon completion.  Group A was told they were simply being timed to establish norms for how long it typically took for someone to complete the puzzle.  Group B was given a cash prize for completing this candle conundrum in the fastest time.

The results proved most interesting.  It took on average three and a half additional minutes for the incentive group to figure out how to attach the candle to the wall.  That's right, the group that had no external motivator finished significantly faster.  In Daniel Pink's Drive, he provides extensive research and support that, "an incentive designed to clarify thinking and sharpen creativity ended up clouding thinking and dulling creativity."
Why is this so? Rewards narrow focus. You are thinking of the end result and lose site of the wide view of functions and variety.  And so my cliche use of the phrase, "creativity comes from within" shows its purpose.  You see the world as you choose to.  There are copious ways to look at a single stimulus in the environment.  Just because something is given a purpose does not mean it is limited to those terms.  Yet by default this is how we tend to think.
Examine your life.  Everything in it you perceive a certain way. The objects you have, the people you encounter, the relationships you've made, all serve their functions in life.  But if a box that holds tacks can do more then keep shiny, metal  circles, then what do you think that means for the more substantial things in your life? What things have you had a fixed mindset on?  Challenge these automatic thoughts and behaviors in your life. They could be causing you to hold out on some pretty amazing stuff.  The ability to see this world and all its different shades of grey comes from within, everything else is just another shade of grey.
June 22, 2011 at 1:55 pm | Team Building Tools | No comment
The difference between intention and action is courage.  It gives life to our virtues.  It is the foundation that creates a reality around those beliefs.
The word courage comes from the same stem as the French word Coeur, meaning heart. In Rollo May'sThe Courage to Create, he explains how courage is the essence that pumps vitality into all our virtues. Without courage, who we are, simply would not exist, and our fidelity would fade into conformism.
The presence of courage does not mean the absence of fear, it is rather the ability to move beyond it. Feel the fear and do it anyway.  It keeps us sharp, on edge, and on point.
Everything your body does when the pressure is on is good for performance.  Bill Russell was one of the greats in the game of basketball winning an NCAA Championship, Olympic Gold Medal, and professional championship all in the same year.  Here's the kicker, before every single game Russell would throw up. His nerves would keep him on point.  So much so, that in 1963, when didn't puke before games he had his greatest slump of his career.  He then got to the playoffs, puked, and played one of the best games of the season.
Feel the fear and do it anyway.  Trust in your abilities and allow them to flow.  Do not suppress them in fear.  Like a squirrel scurrying across a telephone wire it doesn't think, "oh geez, I'm going to fall." It doesn't think at all it just scurries.
The only need you have in life is to fulfill your own potential.  And you already have what you need inside of you.  It is your own unique abilities.  Be courageous and act upon them! They will bring your virtues to life.  Any resistance you feel is only a natural reaction that even the best experience.
Rollo May's extremely empowering outlook calls on our accountability.  If you do not express your original ideas you will betray not only yourself but your community in not making your contribution.
There is something very special in you that needs to be shared with this world.  No one else can share it – it is up to you and you alone.
It takes courage to be legendary.  Courage to be your authentic self, courage to help form the structure of the new world, and courage to act on your beliefs.  But in order to do incredible things you must have incredible ideas.  You might be labeled an an idealist, an audacious maverick, or a crazy fool, but legendary outcomes are not about the odds they are about the actions.
June 3, 2011 at 8:39 am | Courage | No comment